Last Updated on 19 June 2020
Do Stay at Home Mums Need Life Insurance?
---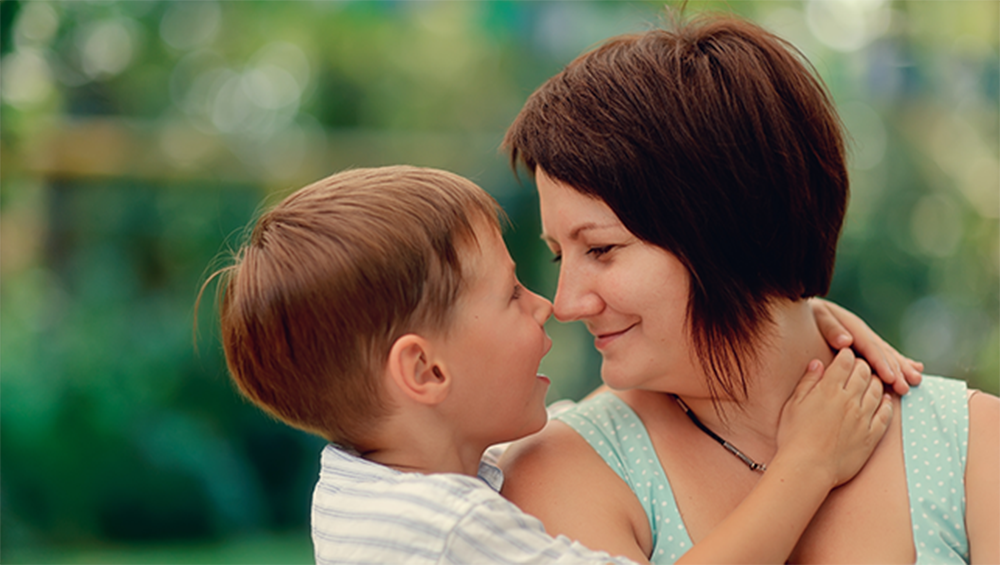 Mums would do anything to keep their kids safe, whether it's protecting them from danger or feeding them healthy food each day. So why is it that many mums still don't have life cover?
Life insurance can provide financial protection for your family should something happen to you, and whether you're a working mum or a stay-at-home mum, it can be hugely important.
Key Points
All mums can benefit from life insurance, whether they work out of the home or not. Factor in your income as well as any unpaid work you do when determining your level of coverage.
Mums should consider life insurance policies that cover critical illness, disability, and death.
Check your life insurance policy at least once a year to make sure it still offers a level of cover that reflects your current lifestyle.
What is Life Insurance for Mums?
Mums have special considerations when it comes to life insurance. Chances are, you're doing a combination of paid and unpaid work, and all of it would be difficult to replace if something happened to you.
Life insurance is for anyone who provides for someone else, whether that's by bringing in an income or looking after the household. When shopping around for life insurance, mums should look for policies that can provide a level of cover that could keep the family finances secure if she was unable to be there.
Do All Mums Need Life Insurance?
Life insurance isn't just for mums who work outside of the home. All mums can benefit from the peace of mind that life cover can provide: knowing the family won't have to stress about money if you're gone.
Your income may cover the mortgage, bills, and education costs, but your work as a mother must be counted as well. If you weren't there to pick the kids up from school and feed them every day, it's possible that your family would need to pay someone to provide some of these services.
Here's how life insurance can help different types of mums.
Life insurance for stay-at-home mums
Life insurance for stay-at-home mums
Contrary to popular belief, it's not just the financial breadwinner who needs life insurance. Stay-at-home mums make a valuable contribution to the household, one that would be severely missed. If something happened to you, who would look after your children and your household?
Research suggests that women supply the economy with $345 billion each year in unpaid childcare work, making unpaid childcare the largest industry in Australia. And mums working from a 'home office' in the country's largest industry should certainly consider taking out life insurance.
Australia's biggest industries (formal and unpaid)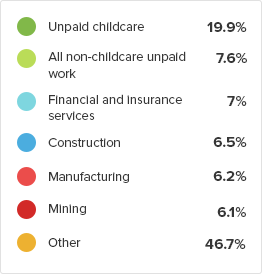 Reference:
https://www.pwc.com.au/australia-in-transition/publications/understanding-the-unpaid-economy-mar17.pdf
Life insurance for single mums
As a single mum you already have plenty on your plate, and finances may be tight. That's why life insurance is important. Fit life cover into your budget and you can be protected if you fall critically ill or are disabled and unable to work.
If you pass away, life cover leaves behind a legacy that can keep your children financially secure until they reach adulthood, or even beyond. Losing a parent is emotionally confronting, and it can be made worse if there are money problems. Life cover can alleviate this added stress, providing the funds for a friend or family member to look after your kids if you're gone.
Life insurance for working mums
Working mums should think beyond their quantifiable income when taking out life insurance. Consider the unpaid work you do around the home to make sure things get done: washing, cooking, attending school plays and driving the kids to soccer practice.
Your life insurance benefit should take all the work you do into account, not just the work that earns a paycheck. Life cover is there to keep your family's finances running smoothly, which means compensating for your earnings as well as your household contributions.
How Much Life Insurance Do Mums Need?
There's no magic formula for calculating the 'right' amount of life insurance cover. You'll need to consider a few factors when working out how much life cover would make you feel most comfortable, both in terms of benefits and premium costs.
Here are some factors to take into account:
Income replacement
This is pretty straightforward: if you bring in an income, how much is it? At minimum, you'll likely want your level of insurance to replace your income should you be unable to work.
Debts
You may want your life cover as security against outstanding debts, such as a mortgage, car loan, credit card debt, or small business loan. Families who lose a loved one often have to sell the family home if they are unable to pay the mortgage; adequate life cover can supply the funds to keep this from happening.
Education
Education costs include school fees, yearly school uniforms, supplies, and books. These costs can also include anticipated university fees, if you wish to help pay for your child's higher education.
Children's age
The younger your children are, the more life cover you may need to look after them as they grow up. Think about who would look after them if you couldn't, and what costs might be incurred.
Unpaid work
Household tasks and childcare needs still exist if something happens to mum. Whether or not you have a spouse, extra financial support can help ensure that these tasks are taken care of.

What Kind of Life Insurance Do Mums Need?
Mums can get life insurance to cover a range of situations, from serious illness to death. Look at policies that cover critical illness, disability, and death. Weigh up the cost of the premium with the type of coverage offered, and decide if it offers what you're looking for.
Mums can also add children to their policy, often at no extra cost. It may seem strange to have life insurance for a child, but it can be useful if your child becomes very ill. In these cases, life cover can help with medical or funeral expenses.
Will My Kids Be Covered If I Die?
To truly gain peace of mind from your life cover, you want to be certain your children will benefit from the policy if you pass away. Always read the terms and conditions of the policy before purchasing, and don't hesitate to ask your insurer any questions you may have.
Update your life insurance with any major life events, such as buying a house or having another child. These events can impact the amount of life cover you need. Stay on top of your coverage to ensure that it still gives you what you want.