Last Updated on 17 July 2020
6 Tips for Making a Successful Life Cover Claim
---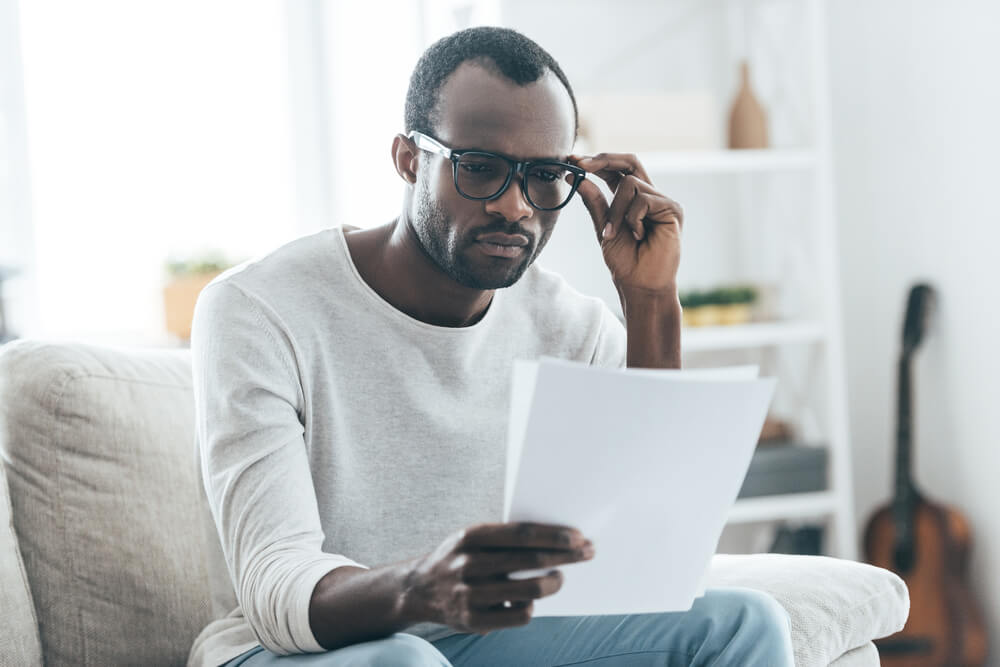 Key Points
Life insurance claims are paid out in the first instance 90% of the time. However, there are some reasons for life insurance not paying out.
To avoid a rejected life insurance claim, be honest and upfront on your initial application for coverage.
There are higher rates of rejected claims associated with life insurance purchased without seeking financial advice.
Life insurance not paying out
Australians buy life insurance for peace of mind. It's a weight off your shoulders to know that if something happened to you, your family's finances would be safe. But that peace of mind comes from the confidence that your claim will be paid.
Life insurance not paying out can come as a shock during a very emotional time. Fortunately, most claims are paid—in a 2016 life insurance review, ASIC found that 90% of overall claims are paid in the first instance.
These figures are stronger for term life cover claims, where a benefit is paid to beneficiaries in the event of a policyholder's death. An average of 96% of term life cover claims are paid.
Although the average numbers for rejected claims are relatively small, nobody wants to fall into that minority.
In this guide, we'll look at some of the reasons why life insurance claims are rejected, and provide tips on how to avoid a rejected claim.
Disclose relevant information on your application
The information you provide on your initial life insurance application determines the details of your policy. If a claim is made on the policy, it's almost guaranteed that the insurer will reference the application when assessing the claim.
The information you've disclosed will be cross-checked against medical records and other details. If it turns out that the policyholder did not disclose information—such as about pre-existing conditions—then the claim could be denied. This is true even if the claim is not related to the pre-existing condition.
Insurer BudgetDirect reports that only 3% of life insurance claims are denied, and the majority of those are because of "serious non-disclosure of medical history on application forms."
It's also essential to be honest on the application. Knowingly putting false information on the application is fraud, which is grounds for denying a claim. For example, if you're an occasional smoker but say on the application that you've never smoked, it could be grounds to deny your claim.
So how can you avoid making errors on your application that could come back to bite you? Tell the truth and answer every question thoroughly. Is BASE jumping one of your hobbies? Disclose it on the application. If the insurer requests any further information, provide it. This puts you in a solid position if you need to make a claim.
Be sure your policy is active and paid up
Life insurance benefits are contingent on your policy being in good standing, which means paying your premiums on time and in full. If you've missed payments, it could mean a denied claim or reduced benefits.
In some cases insurers may let you suspend your cover for a fixed period of time when you're experiencing financial hardship. You won't have to pay your premiums during that time, but you won't be able to claim any benefits, either. Once you reinstate the policy and it is active again, you should resume your normal coverage.
You should also check the status of any life cover policy you hold, especially if you have life cover through your superannuation. There may be terms and conditions associated with the policy, such as maintaining a minimum account balance.
If your employment circumstances change and your contributions stop or reduce, then you may find that your policy through super is invalidated. This could result in a rejected claim—even though you've been paying the premiums.
Get professional advice on life cover
ASIC found that insurance policies sold to consumers without financial advice were associated with high rates of rejected claims. This suggests that consumers don't have the information they need about life cover.
In some cases, these denied claims could be related to inconsistent definitions across insurers, particularly for TPD and trauma insurance. What is true for one policy isn't necessarily true for another, which can lead to confusion for policyholders.
With direct life insurance, you may not be covered for pre-existing conditions. This goes back to the application process; direct insurance policies aren't always underwritten at the application stage.
That means that the detailed investigation into your medical history isn't conducted until it comes time to assess a claim. Pre-existing conditions may be excluded from a policy, which can come as a surprise when a claim is rejected.
So what can you do? Your financial situation is unique, so talk to someone at Life Insurance Comparison about what type of cover might suit you and your family best.
Understand policy exclusions
Even top levels of life cover come with exclusions, so be sure you know what they are before you purchase a policy. Life insurance is one area where you don't want to make any assumptions about what's covered.
An exclusion is an event that is not covered by your policy. If you make a claim related to something that is excluded in your policy, it is likely to be rejected.
Start by reading the Product Disclosure Statement, or PDS. It should state what is covered and what's not; if anything is unclear, don't be afraid to ask questions. Exclusions aren't standardised, so each policy can set its own rules.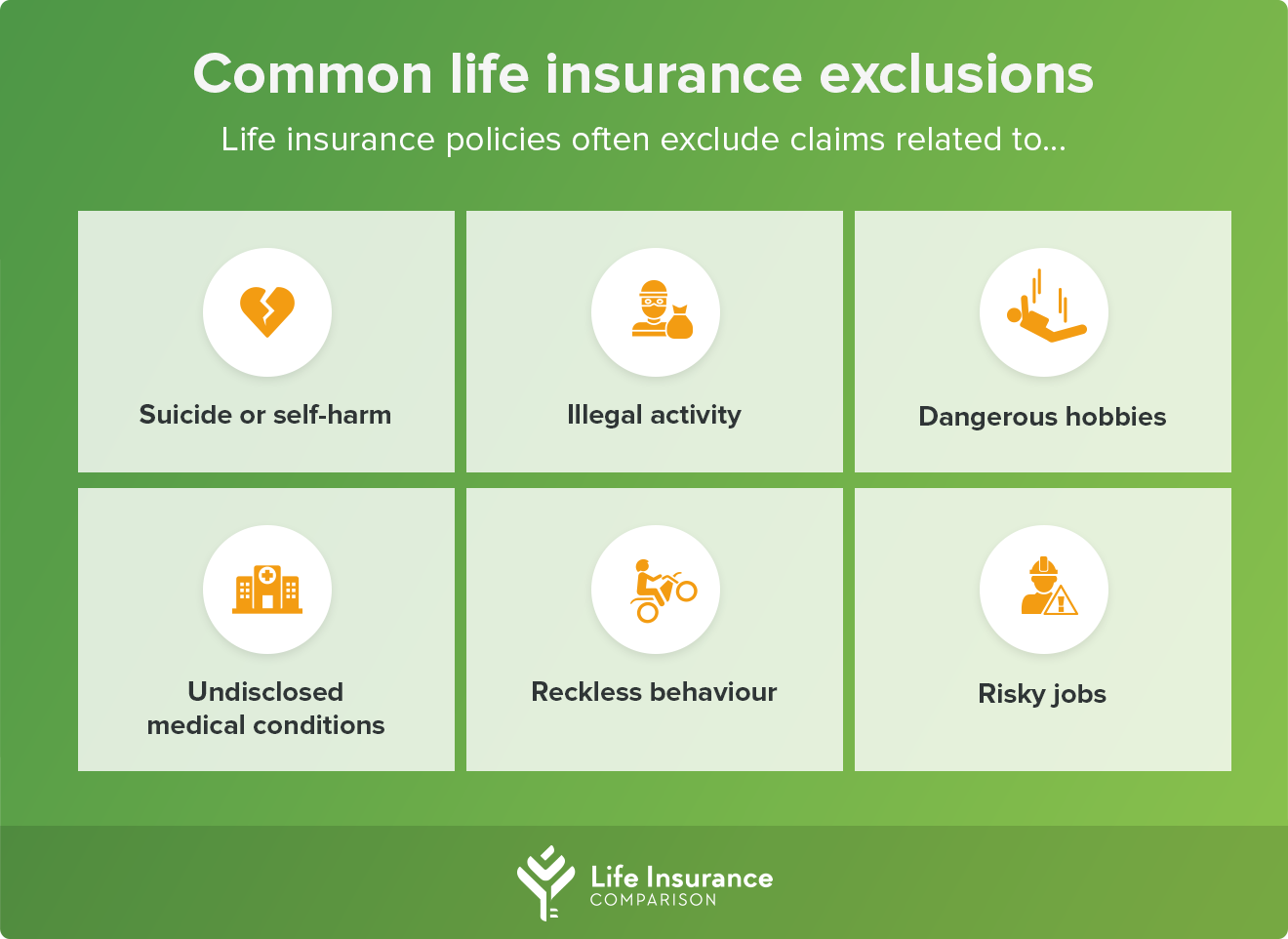 Some exclusions may also be related to a time period. For example, death related to suicide or self-harm often has a 13-month exclusion period. If the policyholder dies as a result of suicide within the first 13 months of holding the policy, the claim can be rejected. This is to protect people who may be experiencing suicidal thoughts.
Present complete claims paperwork
An incomplete life insurance claim is likely to be delayed, if not outright rejected. Insurers require a collection of documents when making a claim. These typically include, but are not limited to, the following:
Completed claim form
Certified copy of death certificate or other evidence of death
Certified copy of the deceased's date of birth
Certified copy of beneficiary's identity
Your insurer should be able to provide you with a complete list of requirements for making a claim, along with instructions on how to do so. You'll often be able to lodge a claim over the phone, via email, or online, and will work with a claims agent throughout the process.
Review life cover if you go abroad
Your life insurance policy may not cover you for death or injury sustained while overseas, whether you're traveling or moving to another country. Again, this is something that varies by insurer and by policy.
Check the PDS for information on how your policy handles overseas travel. It may only cover certain countries or a certain time period. If you're in a country that is politically unstable or considered to be 'high risk' by the Department of Foreign Affairs, you may not be covered.
The same goes for moving abroad. If you move overseas, contact your life insurer to find out how this might affect your cover. Temporary moves may be treated differently than permanent moves, as there could be a maximum time limit that your insurer will cover you abroad.
If you move permanently to another country, you may need to take out cover in that country. You might also need to consider travel insurance to cover any unexpected events while traveling overseas.
The best life insurance is tailored to your financial and family situation. Here at Life Insurance Comparison, you can quickly and easily compare life cover to find your ideal policy. It's easy to get started—simply fill out the comparison tool below.