Last Updated on 23 July 2020
What is Income Protection Insurance?
---
Income protection insurance is something you'll hope you'll never need to use, but if you suddenly get injured or ill and need financial help to cope with everyday expenses, it can be a great source of comfort.
But it's quite natural to ask if the cost is worth it? Or how does it all work? Or what will I get if I need to claim?
Key Points
Income protection insurance replaces lost income when you're unable to work due to an illness or accident.
Most people pay just a few dollars a day for income protection, however coverage and prices vary.
The premiums you pay for income protection insurance are generally 100% tax-deductible.
To find the best policy for you, aim to strike a balance between how much cover you need and how much you can afford.
Here, we arm you with all the information you need about income protection insurance – so you can decide whether the peace of mind it can buy is something that fits within your needs and budget.
Let's break it down.
What is income protection insurance?
What would happen if a freak accident or sudden illness prevented you from working for a while? It's the type of question that can keep you awake at night, especially if finances are tight.
But it really shouldn't.
It's where income protection insurance can kick in. It replaces a percentage of lost income when you're unable to work due to an illness or accident.
This means it can help you continue to pay off your mortgage, pay off credit cards and other debts, buy groceries and generally maintain your standard of living.
It's a type of insurance that provides you with monthly payments that replace up to 75% of what your income is at the time you submit a claim.
You receive the payments while you're unable to work or up until a cut off point – called the benefits period – whichever happens first.
What does income protection cover?
As we've mentioned, this insurance covers a certain portion of your income for a set period of time if you're unable to work due to an accident or an illness. So if you break a bone or need psychiatric care and can't work but have an Income Protection policy, you can rest easy knowing that you still have money coming into your bank account.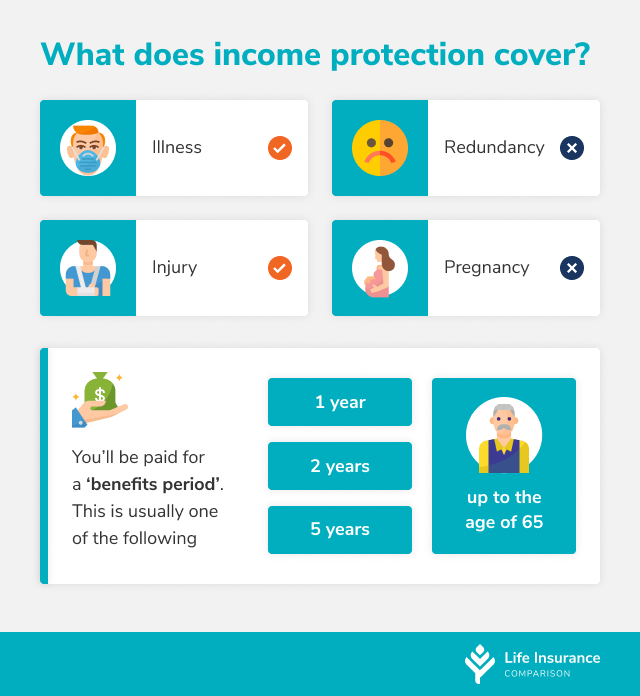 There's a couple of things to be aware of though. Firstly, income protection does not cover redundancy – it only covers illness or accidents.
Secondly, you'll only be paid for the benefits period, which typically ranges from 1, 2 or 5 years, or up to the age of 65 or 70, depending on your insurer.
What this means in practice is if the benefits period is two years, for example, you won't be paid after that two year period even if you're still unable to work.
In this case, total and permanent disability (TPD) insurance may be a better option to protect you from being permanently unable to work. You can read more about TPD here.
But what income protection is good at is keeping you more financially stable while you recover. If cash flow concerns you, then income protection could be a solution.
How does income protection cover work?
As mentioned, the portion of income you're covered for equates to about 75% of your income at the time you submit your claim. However, this can vary.
You can also choose to receive a smaller portion of your total income if you want to keep the premium you pay to a minimum.
Currently, the only type of income protection policies available are called indemnity policies and they insure you for what you're earning at the time of a claim. If your salary has risen or fallen since you took out the policy, then that's what the insurer will look at.
Here's one example: if you've switched to part-time work from full-time and your income has dropped as you've reduced your hours, then you'll receive less than you would have had you made a claim while working full-time.
That said, many insurers will look at your salary over the past three years and pay out based on either your average earnings over that period, or at the period when you have the highest income, so you're not left with a sudden drop in income.
This varies from insurer to insurer, so it's worth speaking to a specialist who can help find a policy that suits your needs.
You may have also heard of agreed value policies, where you nominate a fixed amount to receive at the time you start your policy. These were discontinued in March 2020 but many people who currently have income protection will be on this type of policy.
When can you claim on your income protection insurance?
You can make a claim only if you have a covered illness or injury that stops you from being able to do your job during the benefits period.
The illnesses and injuries that are "covered" and their definitions will vary from policy to policy. As getting an appropriate level of income protection cover can be a time consuming process, it can be helpful to speak to an expert, like those at Life Insurance Comparison, who can search policies that best fit your needs.
Generally anything from a tiny bone breaking to a massive heart attack will be covered. It always pays, though, to read through the product disclosure statement to get clear on exactly what's covered and what's not covered.
Does income protection cover redundancy, pregnancy or loss of work?
No, income protection insurance is not to be confused with redundancy insurance, which offers limited financial protection in the case of involuntary redundancy.
You also can't claim against your income protection insurance if you're pregnant, lose your job or are stood down.
What are the waiting periods for income protection insurance?
Income protection policies usually have a short "waiting period" before coverage starts. This time period is the amount of time you have to be out of work before you start receiving benefits.
The waiting period is generally between 14 days and two years. The longer the waiting period, the less you will generally pay for the policy.
When it comes to waiting periods, things like the amount of sick leave and annual leave you have available and the amount of savings you have in the bank will help you work out whether you can accept the waiting period on offer.
How much does income protection insurance cost?
This is probably the question you've been waiting for.
And while we can't give you an exact answer, most people will pay around a few dollars a day. That's right, just the cost of a daily cup of coffee.
Coverage and prices do vary, though, so it always pays to shop around and compare.
There are a number of factors that will affect how much your policy costs, including:
Age: the older you get, the higher the premiums
Medical history and health: smokers or people with pre-existing medical conditions will pay more
Occupation: higher risk jobs translate to higher premiums
Your earnings: bigger bucks mean bigger premiums
Stepped vs level premiums:

stepped premiums start out cheaper and increase as you get older
level premiums have a more consistent cost over time and often work out cheaper in the long run. Premiums will rise if insurers put up their policy, but any higher costs aren't linked to your age.

The type of policy, waiting period and benefit period.
Is income protection tax deductible?
Yes, the premiums you pay for insurance against loss of income are generally 100% tax-deductible. It always pays, though, to check in with your tax specialist or accountant to confirm this will apply in your situation.
No need to worry about GST – this type of insurance doesn't attract GST.
Do I really need income protection insurance?
While it depends on your situation, there are usually benefits in having income protection insurance if you earn an income. If you're the sole breadwinner in the family, have children or have a mortgage, you may find it valuable or reassuring to have.
Like most insurance, you'll hope to never use income protection insurance. If you're lucky enough to never have to make a claim, you'll still find value in the peace of mind it provides.
Are there alternatives to income protection insurance?
Some people decide against a standalone income protection policy because they have some coverage under their superannuation fund.
But there are a number of differences between income protection through your super or a standalone policy that sits outside of your super, mainly around features and benefits of the policy.
Often these features and benefits include:
Partial disability – this is where you can work for a certain number of hours, but are unable to work full time. For example, a tradie may injure their back and their doctor recommends they only work 3 days a week until it heals. In this case the insurer will top up the tradie's income to 75% of what they were earning before the injury.
Rehabilitation expenses – as part of your recovery, some insurers will contribute towards the cost of certain equipment so you can return to full health faster.
Relapse benefits – these mean you won't need to re-serve any waiting periods if you need time off work for the same illness or injury within the 12 month waiting period.
Specific injuries benefit – this is where an injury doesn't have any waiting periods and is only available outside of your super.
As ever, it's worth making sure you know what you're covered for when you purchase a policy and checking the details, regardless of whether you have income protection in or out of your super.
In addition, recent reports from Super Consumers Australia and the ABC also highlight how restrictive conditions attached to insurance purchased through some of these superannuation schemes is leaving ill and injured workers struggling financially.
Another type of cover that leads some people to decide against income protection is workers compensation. However, this will only help if you're injured in a work-related incident. Income protection is broader, applying to covered illness and injury outside of work.
There's also life insurance. Some people decide this is the type of security they want, though it doesn't replace income protection insurance.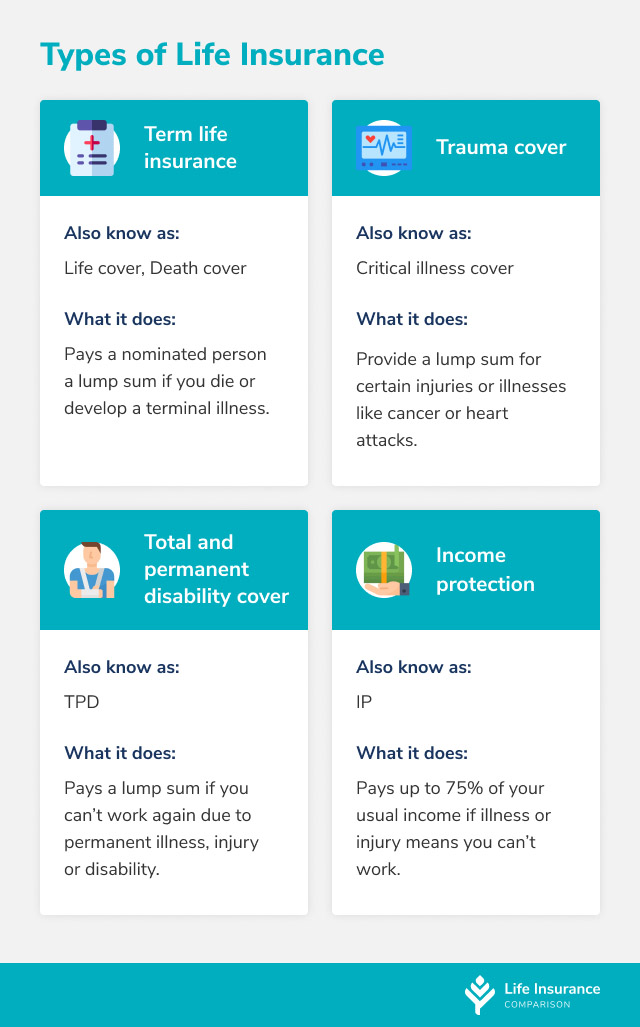 Often people think of life insurance only in terms of an amount payable on their death. It does provide a lump sum payout in the event that you die or are diagnosed with a terminal illness, however it can also include:
Trauma Insurance, which covers you for certain cancers, heart attack, stroke and other conditions, regardless of your ability to work.
Total & Permanent Disability Insurance, to assist you if you become totally and permanently disabled.
Sometimes, a combination of insurance gives the right type of security. With some insurers offering a multi-policy or loyalty discounts, it can be cost-effective to buy life insurance in combination with income protection insurance.
Is there a best income protection policy?
There isn't a "best policy" but there is one that's most suited to you. It really depends on you, your situation, your needs and your goals.
To find the policy that suits you best, you'll need to compare more than just the price of premiums and look at the features of the policy as well.
Look at other important things, like coverage, the waiting period, the benefits period, "covered" illnesses and injuries and more to work out if it suits your needs and represents good value compared to other policies.
You should be aiming to strike a balance between how much cover you need and how much you can afford.
This can be a time consuming process and one option is to use a comparison service. For example, the experts at Life Insurance Comparison will conduct an in-depth comparison of income protection insurers from our trusted panel to try and find options for you.
While everybody's needs are different, so not all policies will be suitable, our team will review the benefits they offer and try to find a policy at an affordable price. This service is offered free of obligation and cost, all you need to do is call us on 1300 904 624 or fill out our online form.
Now that your questions about income protection insurance have been answered, you probably have a good idea about whether this type of insurance – which may just cost a few dollars a day – will benefit you and your family. So, are you ready to take the next step?
This guide is opinion only and should not be taken as medical or financial advice. Check with a financial professional before making any decisions.